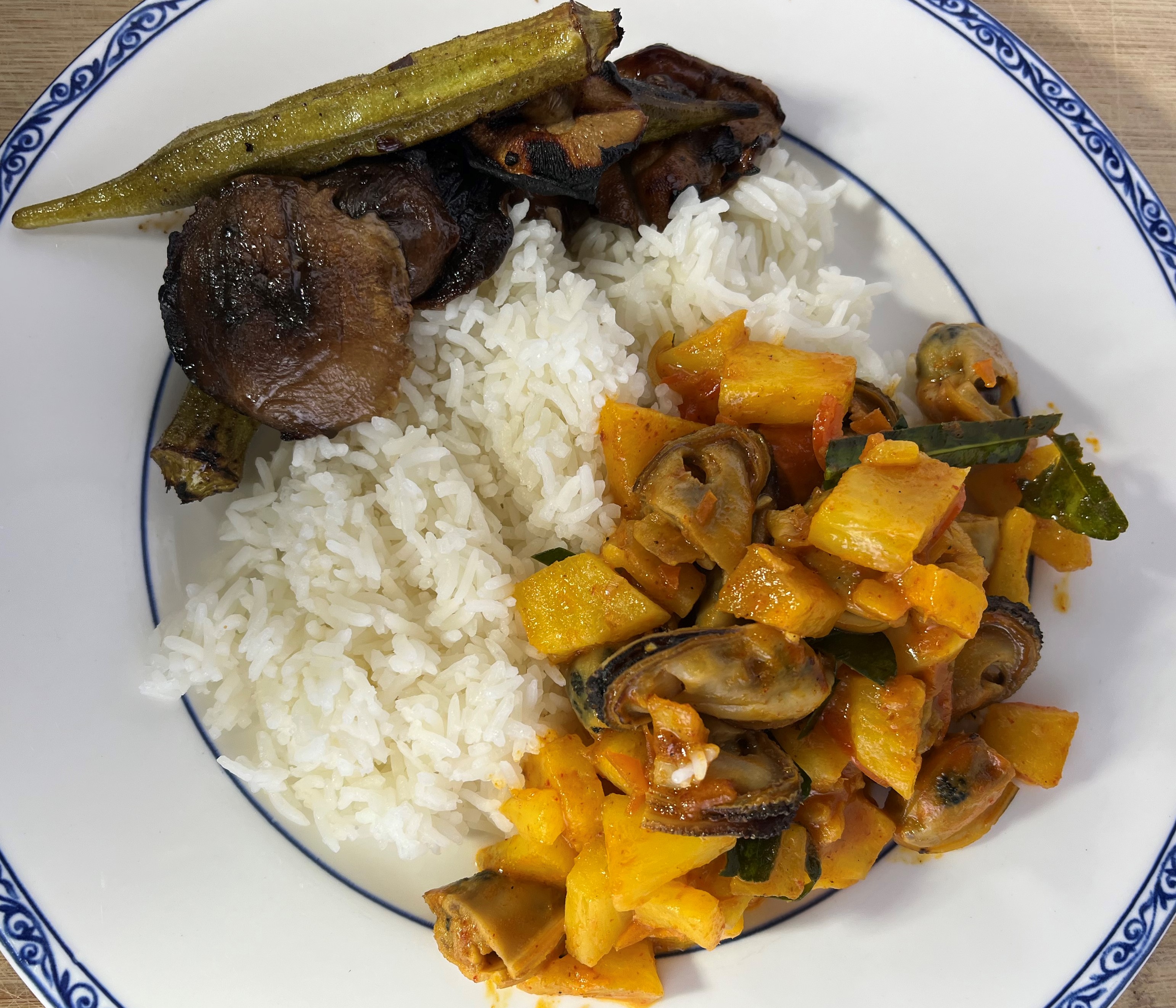 I had some NZ mussels on the half-shell in the freezer and was looking through my Thai cookbooks for a suitable recipe. I noticed that three books had an unlikely combination of mussels and pineapple with red curry paste, so I decided to give it a try. The version I made was mostly based on Far Flung Floyd: Keith Floyd's Guide to South-East Asian Food and I made 2 servings. It turned out to be quite tasty, with a balance of sweet, salty, and spicy. I think the same idea could be used with other proteins, most obviously clams, but maybe shrimp would be good this way. Another potential improvement is to fry the pineapple at the beginning of the cooking to get some caramelization.
This is one of those recipes where everything should be together before cooking starts because it goes quickly. I served it with steamed rice and grilled okra and shitakes.
1/6 of a large ripe pineapple, cored and cut into chunks
12 oz. mussels on the half shell
3 inch piece of galangal or ginger, sliced
2 blades of lemongrass, chopped
10 Thai basil leaves
1 Tbs. vegetable oil
1 Tbs. red curry paste
4 Tbs. coconut cream
1 Tbs. fish sauce
1 tsp. palm or brown sugar
4 Kaffir lime leaves, thinly sliced
2 red Thai chilies (or half a red jalapeno), finely chopped
I a large pot put the galangal (or ginger), lemongrass, and Thai basil. Add about a half inch of water. Bring to a boil and then add the mussels. Cover and cook (shaking the pan occasionally) for 5-10 minutes until the mussels are done. Fish the mussels out of the pan and put them in a bowl.
In a large skillet, heat the vegetable oil over medium-high heat. Add the curry paste and cook until fragrant, about a minute. Add the coconut cream, fish sauce, palm or brown sugar, kaffir lime leaves, and chilies and mix well. Add the chopped pineapple and the cooked mussels to the pan to heat through. Serve with steamed rice.