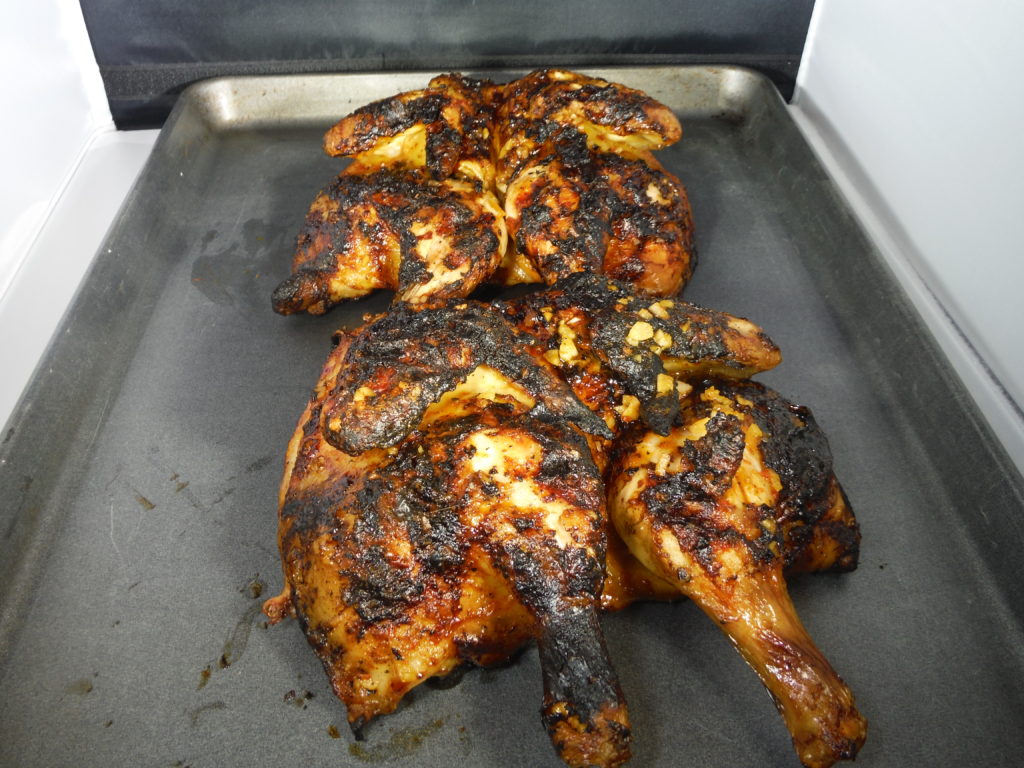 I recently saw two articles on Piri Piri Chicken, the spicy grilled chicken of Mozambican origin which is now enjoyed in a number of countries. One of them was the cover article in the July-August issue of Milk Street Magazine, and was a variation from Cape Town. It looked quite good (which is why I bought the magazine), but also a bit of a production. The other was a Portuguese variation in the Wall St. Journal, which was simpler and therefore the first one I tried. This variation is basting chicken or Cornish game hens in a piri piri spiced butter mixture while they grill. It turned out quite well.
Although I finally found piri piri sauce at Kroger, I did not have any when I cooked this, so I improvised with 2 Tbs. of SriRacha sauce and 2 Tbs. of Tiger sauce.
Here is enough for two Cornish game hens, which at our stage in life is 4 servings.
¼ cup unsalted butter
1-1/2 tsp. finely chopped garlic
1 tsp. chicken boullion base (such as Better Than Boullion)
¼ cup piri piri sauce
½ cup white wine
1-1/2 tsp. brandy
1-1/2 tsp. whiskey
2 Cornish game hens, spatchcocked
Coarse sea salt
In a small saucepan, melt the butter over medium heat and saute the garlic for about a minute. Add the chicken base and piri piri and increase the heat to medium high to bring to a boil. Add the wine, brandy, and whiskey, and cook for 3-4 minutes to cook off the alcohol. Put the saucepan in a cool water bath, and whisk periodically until the mixture is cool and is an even emulsion.
Heat the grill. Sprinkle the game hens on both sides with coarse sea salt while the grill heats. Put the birds skin side down, and baste the bone side with the piri piri butter. After 5 minutes, flip the birds and baste the skin side.
Continue flipping and basting at 5 minute intervals until the internal temperature in the thickest part of the breast is 160 degrees. This should be in around 25 minutes.