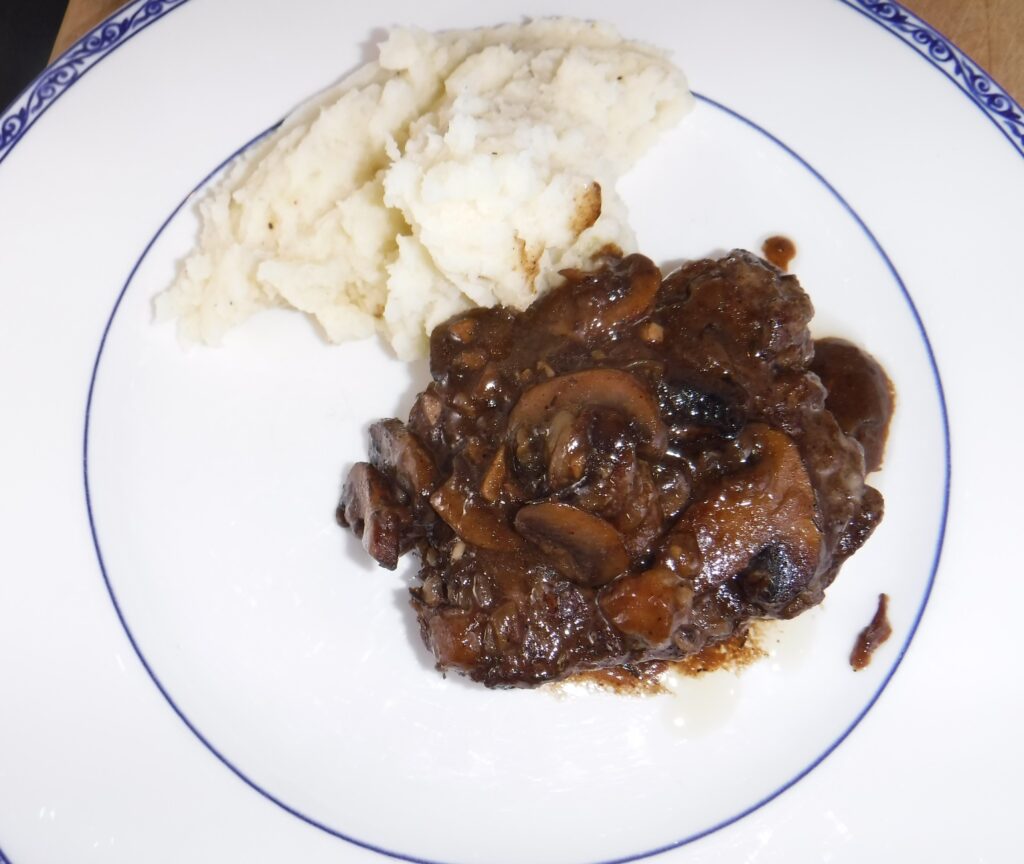 Potted steak is essentially a French cousin of the American dish pot roast.  The main difference is starting with serving sized pieces of a tough but flavorful steak, such as chuck or bottom round, rather than starting with a large hunk of meat.  This version serves 6 and is adapted from a recipe in the New York Times International Cookbook from 1971.  It was very good with mashed potatoes.
2 lb. of chuck or round steak cut into 6 pieces
Salt
Freshly ground black pepper
Flour
2-4 Tbs. bacon fat or cooking oil
½ cup chopped onions
5 cloves garlic, chopped
8 oz. mushrooms, sliced
1-1/4 cups beef stock
½ cup dry red wine
¼ tsp. marmite (optional)
¼ tsp. dried thyme
1 bay leaf
Dredge the pieces of steak in a mixture of salt, black pepper, and flour, and pound the mixture into the steak with a meat tenderizing mallet.
Preheat the oven to 275 degrees.
Heat half of the fat or oil in a Dutch oven and saute the onions and garlic until translucent. Add the mushrooms and cook until nicely browned. With a slotted spoon, remove the cooked vegetables to a bowl.
Add the rest of the fat or oil to the Dutch oven and saute the steak pieces, in batches if necessary, until browned on both sides. Deglaze the pan with the beef broth and red wine, scrapping the bottom thoroughly to dissolve all the browned frond into the liquid. Add the optional marmite, dried thyme, and bay left and add the cooked vegetables on top of the steaks. Cover the pot and put it in the oven to slowly roast until the steaks are very tender, about 2 hours.
When the steaks are done, put the pot on the stove top. If there is any separate fat in the pan, remove it. If the sauce is thin, sprinkle some additional flour and cook over medium heat to form a gravy. Check the seasoning and serve.