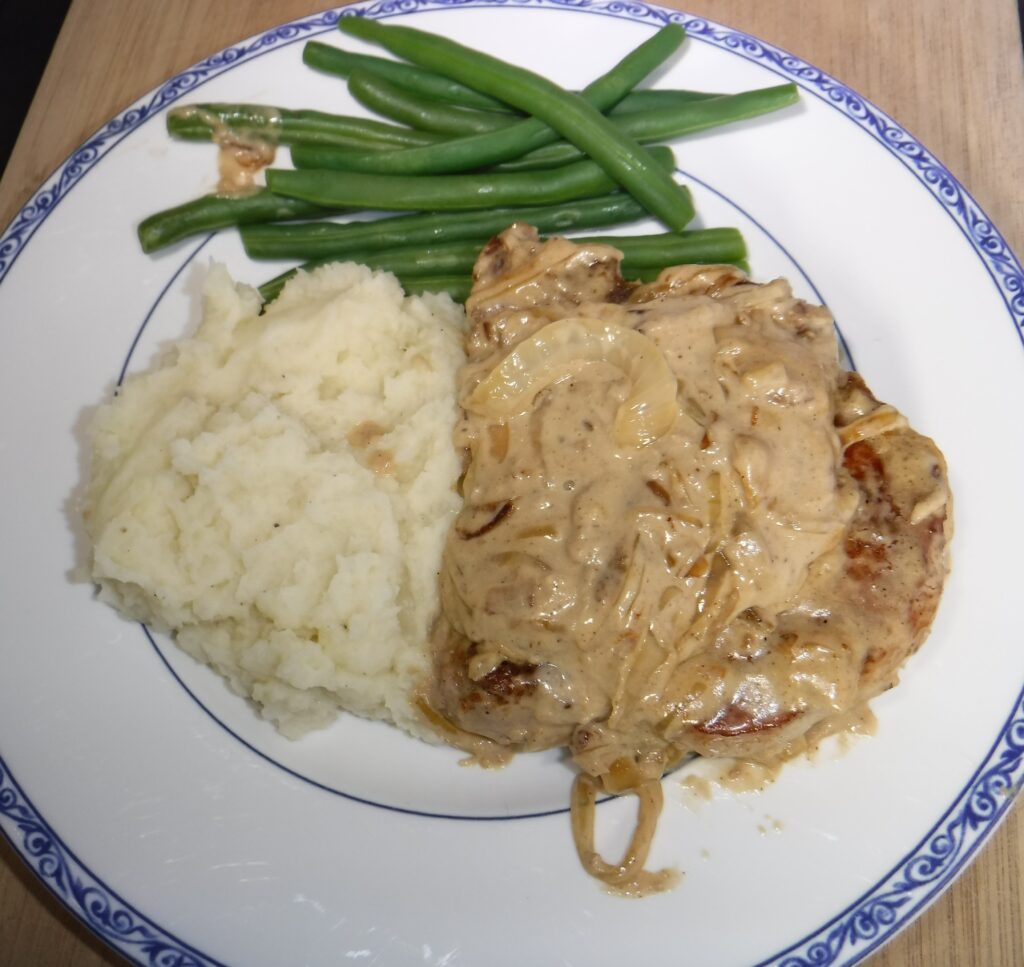 During a recent stay in Savannah, Carol had an excellent veal chop at Garibaldi's. She commented that she thought the secret behind it was that it was cooked sous-vide before being seared, and asked if I could try to reproduce the meal at home. This post is that successful attempt, substituting the inexpensive and easy to find thick cut pork chops for the veal. This made 6 generous servings and took about 3 hours end to end. The pork chops can spend between 1 and 4 hours in the water bath.
6 thick cut pork chops
3 Tbs. butter
2 Tbs. vegetable oil
1-1/2 large onions, thinly sliced
2 cloves garlic, chopped
2 Tbs. flour
3 Tbs. white wine vinegar
¼ cup dry sherry (Fino)
¾ cup heavy cream
2 tsp. Dijon mustard
Salt and pepper to taste
Put the pork chops two at a time in a single layer into gallon ziplock baggies and, using water displacement, push out all the air and carefully seal. Put them in a sous-vide water bath at 137 degrees for at least 1 hour and at most 4 hours.
When the pork is done in the sous vide machine, remove the bags from the water bath. Reserve the liquid in the bags and pat dry the pork chops with paper towels. Strain out any large particles from the pork liquid and skim any fat.
In a large heavy skillet, heat the butter and oil over medium high heat. When hot, sear the pork in batches until browned on both sides. Put the pork chops in a slightly warm oven to keep warm. (I used a large toaster oven set at 150 degrees.) Reduce the heat to medium-low and add the onion and garlic. Saute until translucent. Sprinkle in the flour and saute a couple of minutes. Deglaze with the pork stock, vinegar, and sherry and cook until it forms a gravy. Add the cream and mustard and stir well. Add salt and pepper to taste. Return the pork chops and any liquid they have released to the pan, and stir to coat the chops. Serve with mashed potatoes and a green vegetable.
Note – The next time I do this I will plan on brining the chops before sous-viding them.