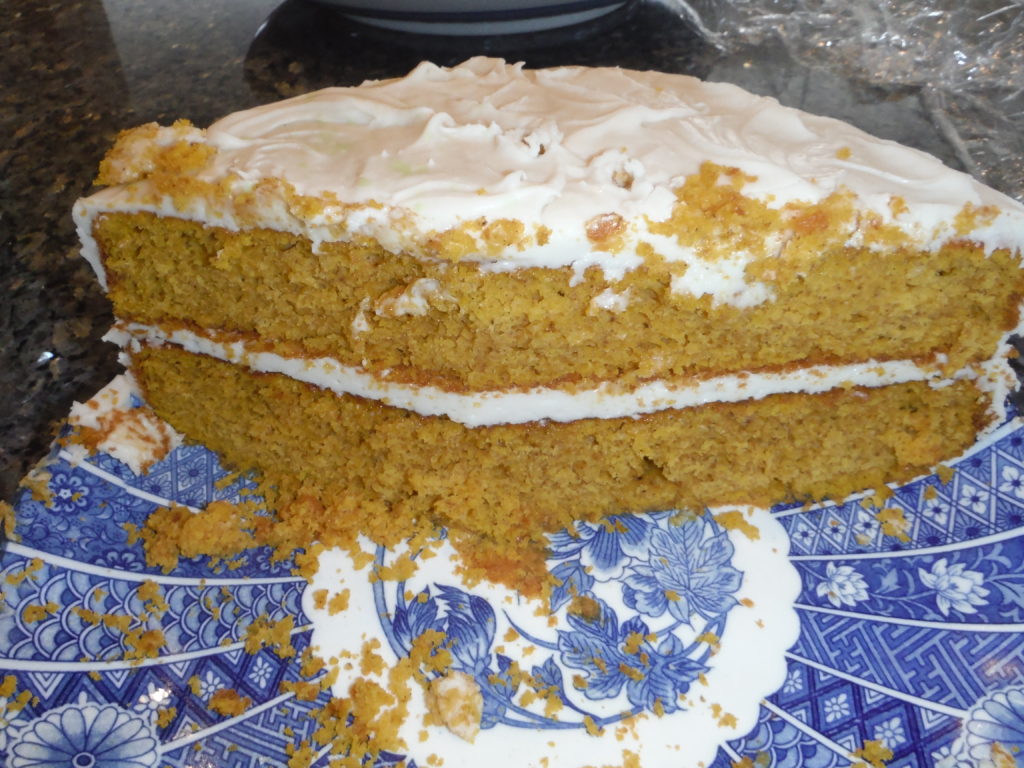 This is the cake which I usually request for my birthday. It is adapted from a classic Chicago cookbook, "Mary Meade's Country Cookbook" which was given to me as a present about 40 years ago. It is a good source of standard American recipes and our copy has lots of food stains to show that it has been heavily used over the years.
Cake batter
½ cup vegetable shortening
1-1/2 cups sugar
3 eggs
1-1/4 cups canned pumpkin
½ cup whole milk
3 cups cake flour
5 tsp. baking powder
1 tsp. salt
1 tsp. cinnamon
¼ tsp. ground cloves
¼ tsp. ground cardamom
Cream Cheese Icing
3 oz. cream cheese at room temperature
2 Tbs. whole milk
2 cups confectioner's sugar
Dash of salt
1 tsp. vanilla
Preheat the oven to 375 degrees.
Cream together the shortening and sugar until light. Add the eggs, one at a time, until well combined. In a bowl mix together the pumpkin and milk. In a second bowl, mix together all the dry ingredients. Alternately add the pumpkin/milk and dry ingredients, mixing well after each addition.
Grease two 9-inch cake pans. Fill with the batter and bake until done, around 35 minutes.  Allow to cool a few minutes in the pan, and then invert the cake on a cake rack and remove from the pan. Allow to cool on a cake rack.
While the cake is cooling, make the icing. Mix the cream cheese and the milk. Work in the sugar. Mix in the salt and vanilla. Adjust with either more milk or more sugar to get a spreadable consistency