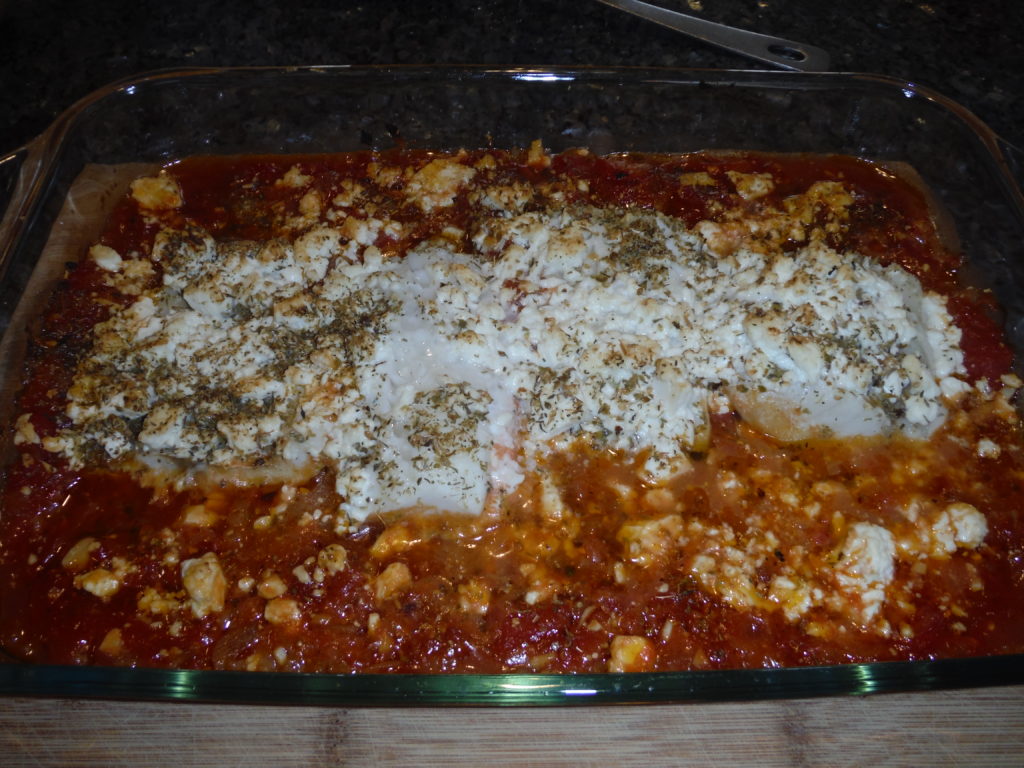 This is a variation on Garides Santorini (Baked Shrimp and Feta Santorini Style), which was in an earlier posting. In this case I was using cod which we had in the freezer and working off a recipe from "Once Upon A Chef". It was very good with fresh flatbread ( Grilled Flatbread ). The basic steps are to make a tomato sauce, put the sauce in a 13 x 9 inch baking dish, put the cod fillets on the tomato sauce, sprinkle feta and oregano over the top, and bake and broil until the fish is cooked and feta is browned. This makes 4 servings.
4 Tbs. olive oil
2 large shallots, chopped
4 cloves of garlic, chopped
1 (28 oz.) can diced tomatoes
1-1/2 tsp. salt
¼ tsp. black pepper
1 tsp. ground cumin
½ tsp. red pepper flakes
1 Tbs. honey
1-1/2 lbs. cod or other firm white fish
6 oz. feta cheese, crumbled
¾ tsp. dried oregano
Preheat the oven to 400 degrees.
In a frying pan or wok heat the olive oil, add the onions and garlic, and saute until translucent. Add the tomatoes, salt, pepper, cumin, red pepper, and honey. Stir well, bring to a boil, and then turn down to simmer 15-20 minutes until it forms a sauce.
Spoon the tomato sauce into an oven-proof 13 x 9 baking dish. Place the cod filets on top, and sprinkle with crumbled feta and oregano. Bake for 12-15 minutes until the fish flakes. Then turn on the broiler, and broil for a few minutes until the cheese is browned. Serve in a shallow bowl with a good bread.