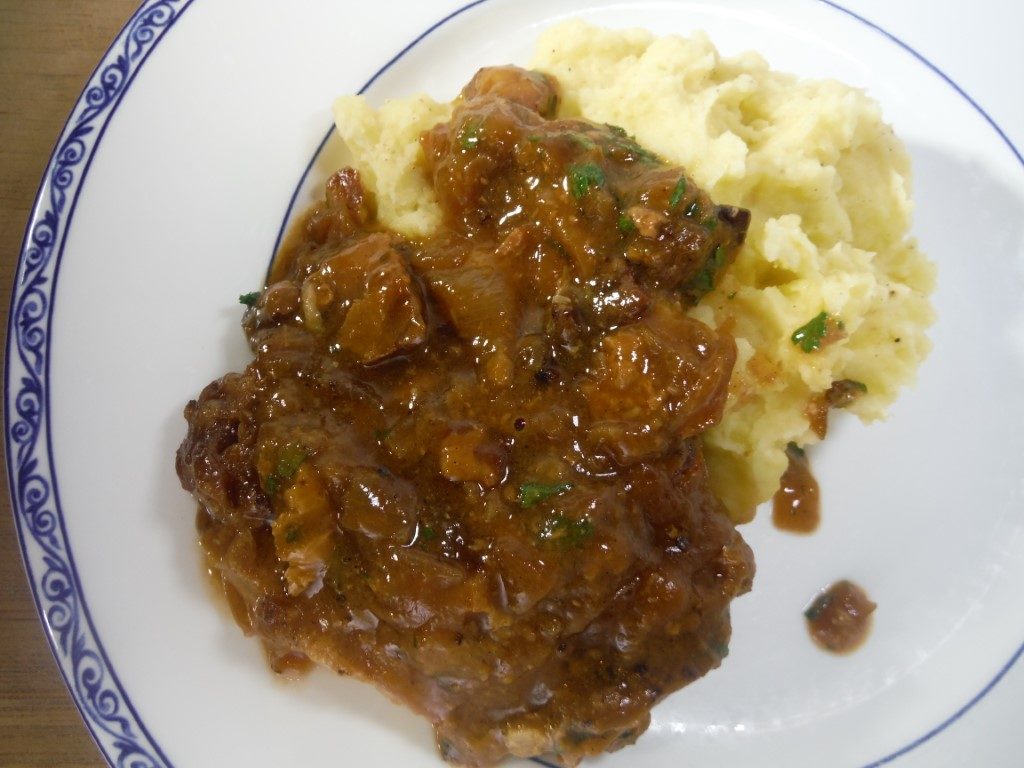 Comfort food at its finest.  This recipe is adapted from Cook's Illustrated's Slow Cooker Revolution, and was indeed cooked in a slow cooker, although it could just as well have been cooked on a stove top or in the oven.  It has a mild sweet/sour taste from the sugar, caramelized onions, and vinegar.
4 oz. bacon, cut into lardons
3 large yellow onions, halved and then cut into ½ inch slices
4 tsp. brown sugar
3 cloves garlic, minced
1 Tbs. fresh thyme leaves (or 1 tsp. dry)
1/3 cup all-purpose flour
1 cup low sodium chicken broth
¼ cup soy sauce
2 bay leaves
6 pork chops (2.25 lbs. total weight)
Salt and pepper
1 Tbs. cider vinegar
1 Tbs. fresh parsley, chopped
Saute the bacon in a large skillet until crisp.  Remove the bacon with a slotted spoon to a bowl.  Pour off any excess oil so that only about 2 Tbs. remain.  (If the bacon is very lean, some oil may need to be added to have 2 Tbs. in the skillet.)  Add the onions, 1 tsp. of the sugar, the garlic, and the thyme and cook until the onions are transparent.  Stir to remove the frond from the bottom of the skillet.  Add the flour, mix well and cook for a minute or two to color.  Add the chicken broth and stir to dissolve all the flour into a gravy.  Add the rest of the sugar, the soy sauce, and bay leaves, and stir.
Season the pork chops with salt and pepper and put them on the bottom of a slow cooker.  Add the sauce from the skillet and cook until the pork chops are tender, which will be 6-8 hours on low or 3-5 hours on high.
When tender remove the pork chops to a platter,  and tent the platter with aluminum foil to keep it warm.  Remove the bay leaves and stir the vinegar and parsley into the sauce.  Taste for seasoning.  Serve the pork chops and sauce with mashed potatoes.