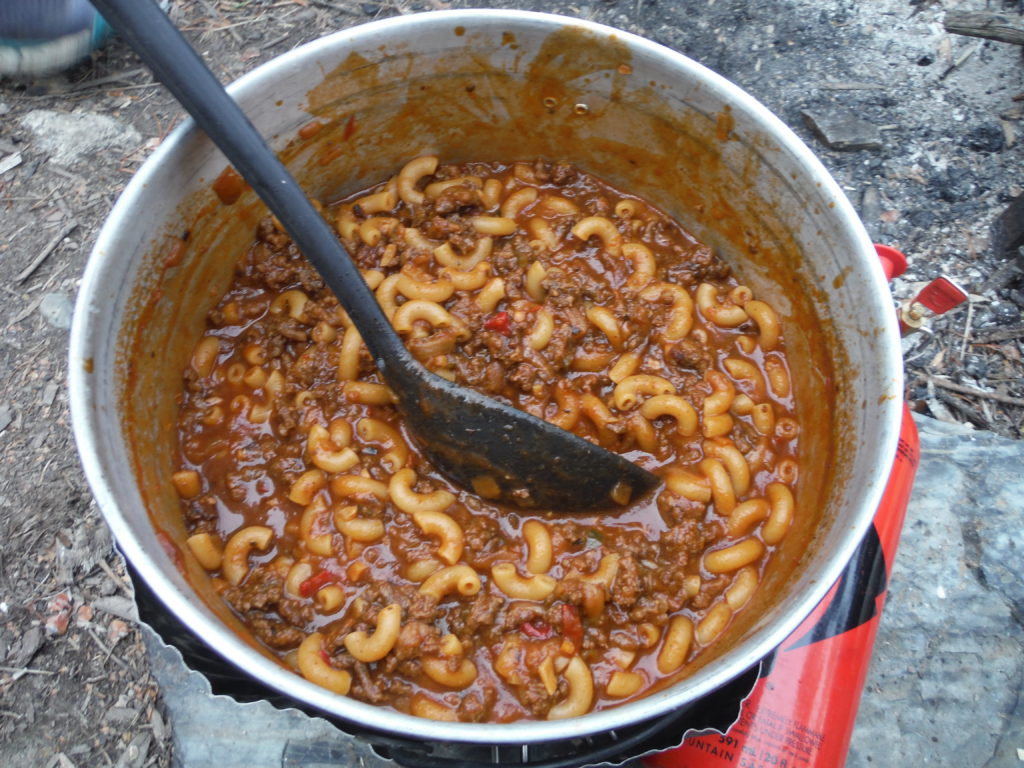 This favorite from Robb Walsh's Texas Cowboy Cookbook has been adapted to be suitable for backpacking and canoeing trips.  It illustrates a basic point, which is that a very wide range of dishes can be eaten on backpacking trips as long as they are at least partially prepared and dehydrated first at home.
(6 servings)
4 Tbs. olive oil
1-1/2 lb. lean ground beef
¾ large onion, chopped
3 cloves garlic, chopped
3 jalapenos, chopped (for a mild alternative, 2-4 oz. cans mild chopped green chilies)
3 cups tomato sauce
1-1/2 Tbs. chili powder
1-1/2 tsp. Mexican oregano
12 oz. small pasta
6 oz. grated cheese
Hot sauce
Saute the ground beef in 1 Tbs. of oil until cooked, breaking up the clumps. Pat dry with paper towels and then put in a dehydrator at 165 degrees until fully dry. The dried beef will have the same texture as grape nut cereal. Put the ground beef in a sandwich zip lock baggy.
Add 3 Tbs. of oil to the pan and saute the onion, garlic, and chiles until the vegetables are softened. Add the tomato sauce, chili powder, and oregano and cook stirring frequently until the mixture has thickened. Put into a dehydrator and dry until it has the consistency of a fruit leather. Move around the mixture on the dehydrator tray from time to time to help it dry evenly. Break the dried mixture into small pieces and put into a zip lock baggie.
Put the pasta in another zip lock baggie.
Place the baggies with the dried beef, the tomato/chili mixture, and the pasta into a gallon sized ziplock baggie with the package of grated cheese.
At camp, add the beef and the tomato/chili mixture into a pot and add around 6 cups of water. Bring to a boil, turn off the heat, and allow it to rehydrate. Bring back to a boil, and add the pasta and more water as required. This is making a one pot dish, so the objective is to add enough water to cook the pasta and prevent burning, but not so much that the final dish is soupy. Cook until the pasta is done.
When done, put in bowls and serve with the grated cheese and hot sauce.