Spaetzle is real central European comfort food, and is a very easily made form of fresh egg pasta. This is the version I have made several times, since it uses chickpea flour and is therefore a relatively low glycemic form of pasta. The only real trick in making spaetzle is to have a way to create the little threads of noodles. There are two basic approaches:
The first approach (which is followed in this post) is for the dough to have the consistency of a batter and to use some device with holes to pour the batter through. As illustrated in this post, I use an actual spaetzle maker which I bought from Germany on Amazon.com. It looks like a potato ricer, except that the holes are farther apart to keep the strands of batter from clumping together, and it has a longer handle so that it can rest on the top of the pan. I have used an actual potato ricer with so-so results since the holes are close together and clumping is a problem. Another approach I have read about is to use a colander.
The second approach (which I have never tried) is to make a much stiffer dough and to grate the dough through the holes of a coarse grater. I would love to hear how well this works and what proportions to use.
This recipe is an adaptation from Making Artisan Pasta by Aliza Green. I served it with chicken paprikash, which complemented it very well. It will make 4 ample servings
5 oz (138 g) unbleached all purpose flour
4 oz (112 g) chickpea flour
1 tsp salt, divided
¼ tsp freshly grated nutmeg
2 large eggs, at room temperature
1 cup (238 ml) whole milk
Mix together dry ingredients, including 1/2 tsp. of the salt. Mix together the eggs and milk. Beat the egg mixture into the flour mixture. The final product should be smooth with a consistency halfway between a batter and a dough. Add either additional milk or additional flour if the consistency seems wrong.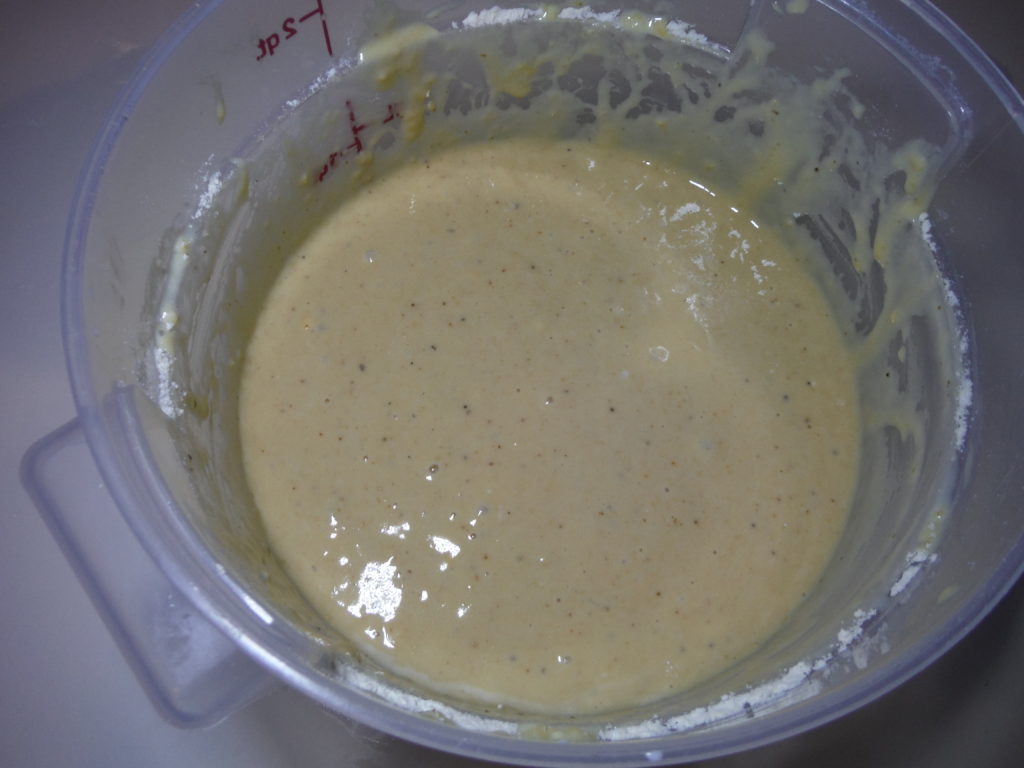 Put 1/2 tsp. of salt in a large pot of water and bring to a boil. Working in batches, put the dough into a spaetzle maker and squeeze into the pot of boiling water.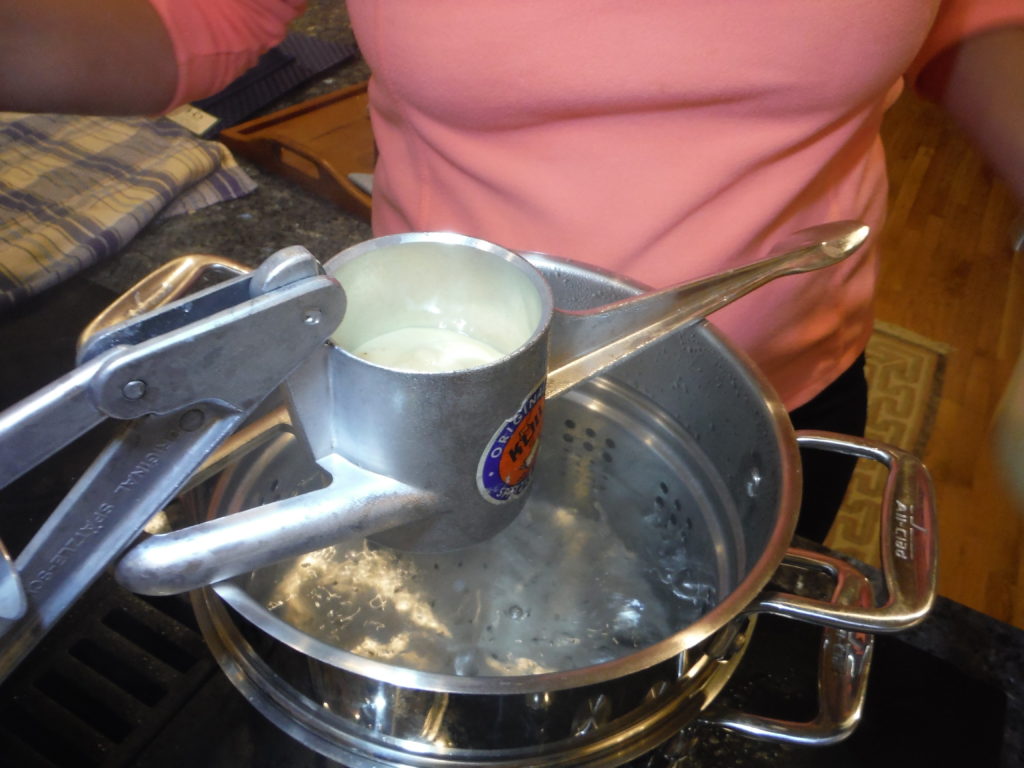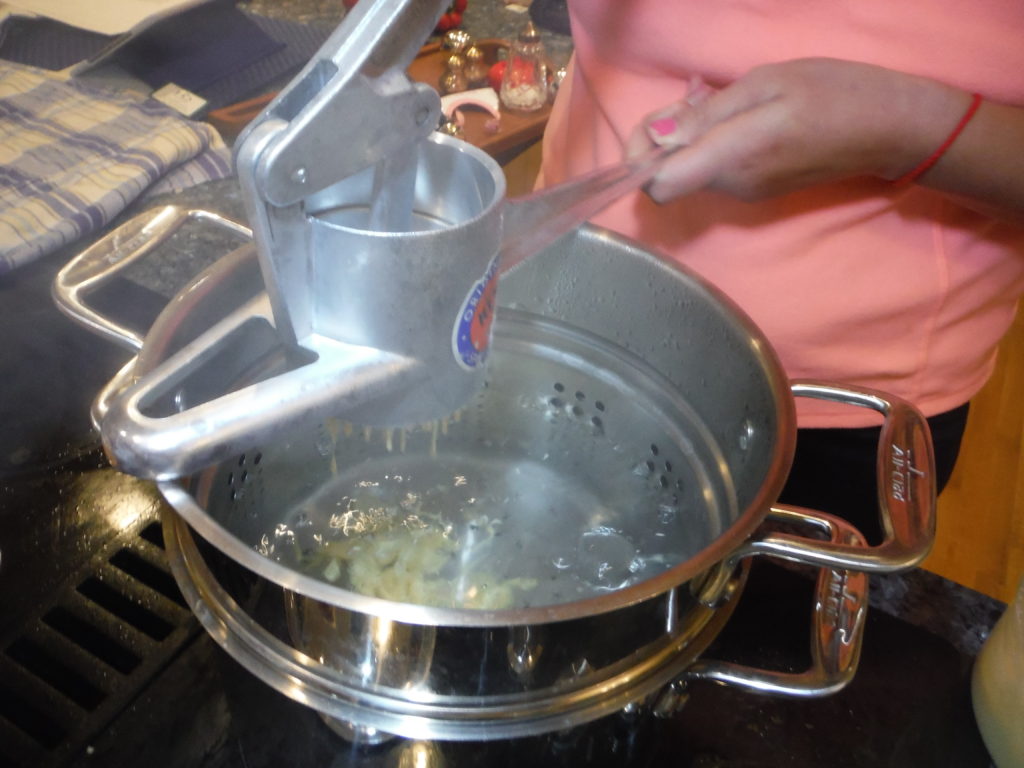 Stir gently to prevent sticking. They are ready when they float to the surface, which takes about 5 minutes.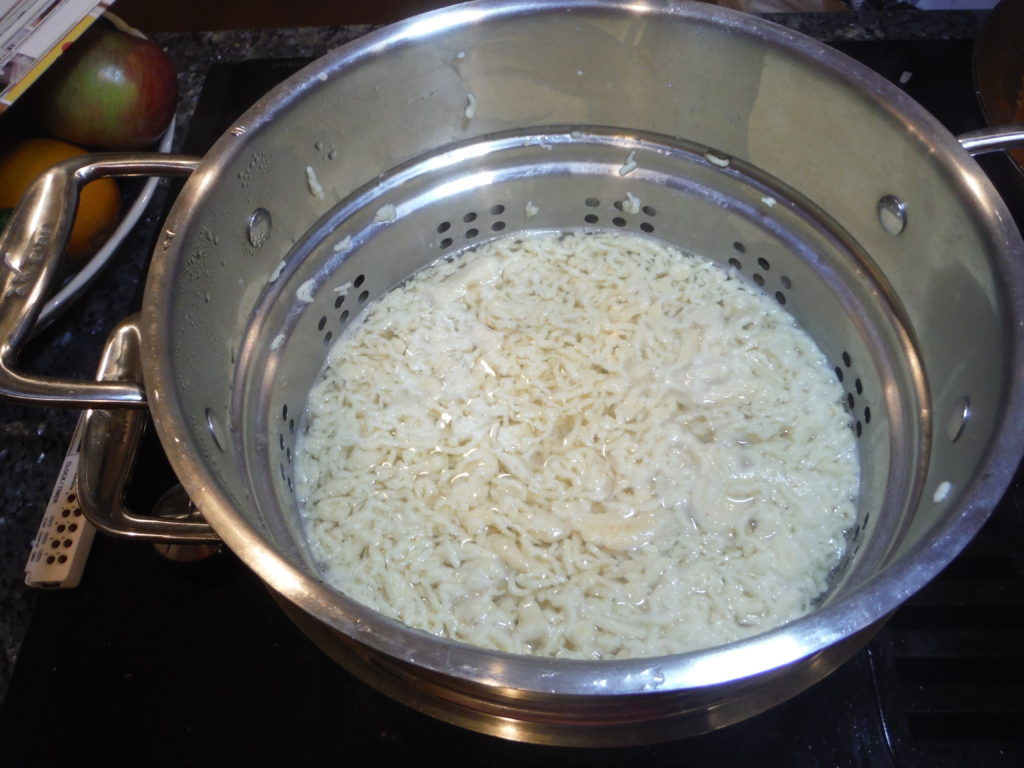 Spoon out the spaetlze onto a cookie sheet lined with a cloth or paper towel and repeat with the remaining batches.