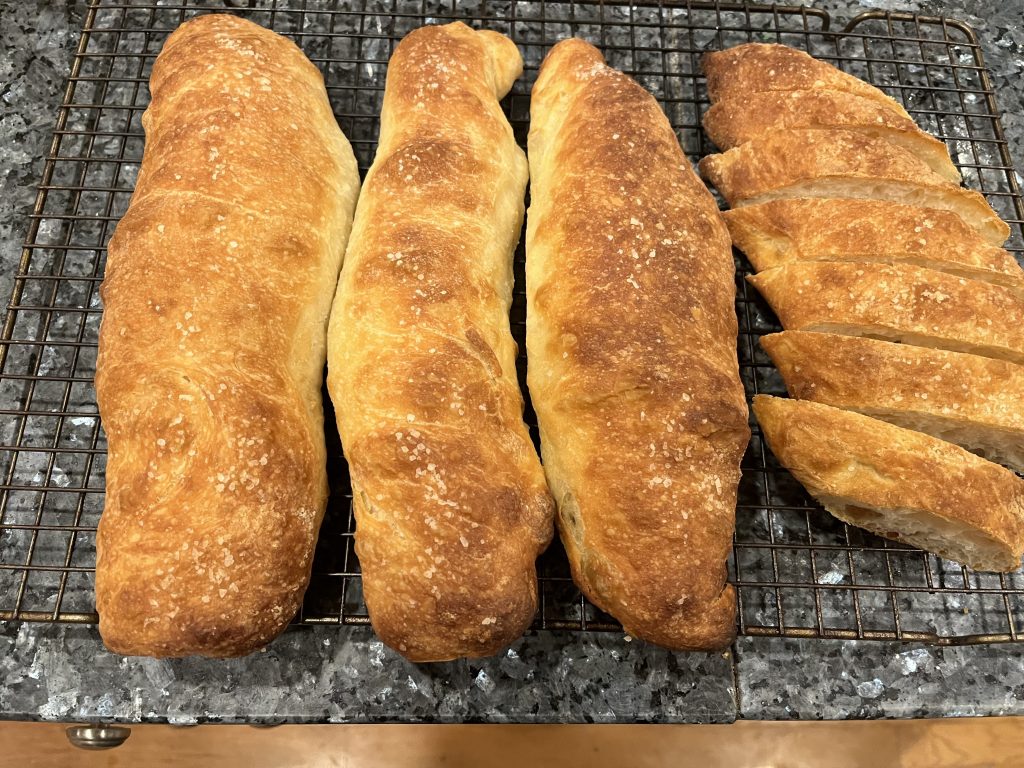 Stecca bread is the signature loaf of the Swamp Rabbit Café in Greenville, SC.  It is acclaimed in Greenville for sandwiches and for dipping in olive oil.  We enjoyed it last night with butter and jam, and this morning toasted, covered with refried beans and cheese and then broiled (aka as the bread for Molletes.)
Stecca bread is essentially a focaccia shaped like a baguette and with the crust infused with olive oil. I saw a recipe for it on greenvilleontherise.com and made a batch. Here is how I made it, which was slightly different from the online recipe. There is an option of putting 20 pieces of garlic, whole olives, or cherry tomato halves on the top of the bread which I skipped.
400 g. (3 cups) bread flour
½ tsp table salt
¾ tsp. sugar
¼ tsp. yeast
350 g. (1.5 cups) cool water
Additional flour for dusting
20 pieces of whole garlic cloves, whole olives, and/or halved cherry tomatoes (optional)
¼ cup extra virgin olive oil, divided
¾ tsp. coarse sea salt or kosher salt
The day before baking, mix together with a dough whisk the flour, table salt, sugar, yeast, and water until a sticky dough is formed. Cover and allow to double, which will take 10-18 hours depending on kitchen temperature. When doubled, put in the refrigerator over night.
The next day, generously flour a work surface. Take the dough out of the doubling container, and fold it a few times to make a smooth dough. Form into a ball. Use some of the ¼ cup of olive oil to oil a doubling container. Roll the dough in the oiled doubling container to coat it. Cover, and allow to double, about 1-2 hours.
About 30 minutes before the dough had finished its second fermentation, put a baking steel or stone in the oven and preheat to 475 degrees. Put a silicon mat on a half sheet pan and use some more of the ¼ cup of olive oil to liberally grease the mat.
While the oven is preheating, flour a work surface and remove the dough from the doubling container.  Form the dough into a rough square.  Using a bench knife, divide the dough into 4 strips.    Gently stretch each piece until it is the almost the width of the half sheet pan.  Put each strip on the pan width-wise and about an inch apart. Brush them with some more of the olive oil.  Sprinkle with the coarse or kosher salt.  (Use less salt if you have topped the bread with olives.)
Bake for 15-25 minutes until the crust is golden brown. Cool in the pan for 5 minutes before removing the bread from the pan and letting it completely cool on a wire rack.
(If the top of the bread becomes soft because of the salt, reheat briefly in an oven to crisp up the loaf.)