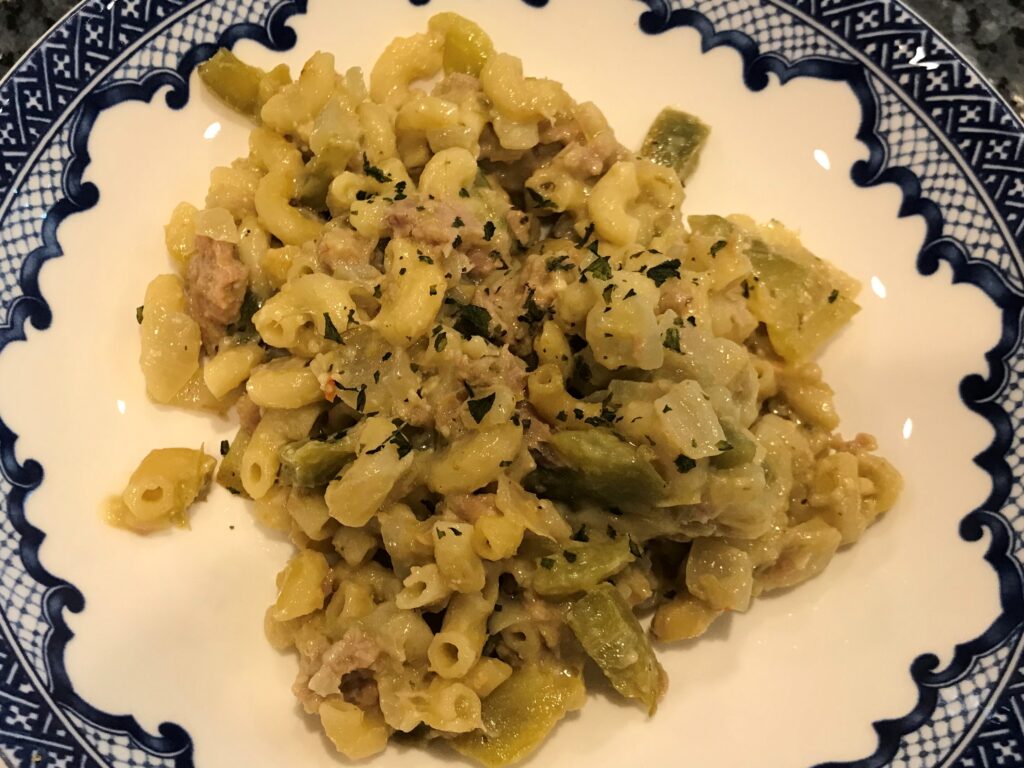 This is a new recipe for backpacking or canoe trips.  A Tex-Mex sauce is made at home, dehydrated, and packaged, and then is combined at camp with small pasta (such as macaroni), process cheese (to thicken the sauce), and tuna packages.  I have made it in the kitchen and plan on serving it on an upcoming trip to the Boundary Waters Canoe Area.
18 oz. tuna in foil pouches (3oz. per person)
¼ cup olive oil )
1-1/2 large onion, chopped )
4 cloves garlic, chopped ) prepare at home, cook,
1 large green bell pepper, chopped ) dehydrate, and
24 oz. tomatillo salsa ) package
12 oz. small pasta
6 oz. processed cheese (such as Laughing Cow)
At home, chop the vegetables and saute them in olive oil in a large skillet until softened. Add the tomatillo salsa and cook until it has the consistency of a thick paste, being careful not to burn it. Dehydrate the cooked vegies and salsa. When dry, allow the vegetable/sauce mix to cool to room temperature, and then put into a zip lock baggie or a vacuum seal bag.
When ready to cook at camp, put the dehydrated vegies and salsa into a pot and add 4 cups of water. Heat and stir to dissolve. Let the vegies cook until softened. Add the pasta and just enough water that the pasta can move freely. Cook, stirring occasionally, until the noodles are done, adding additional water as needed. (You want just enough water that the noodles are hydrated and cooked, but not enough to make a soup.) When the noodles are done, stir in the cheese and mix until it has dissolved. Add in the tuna and mix. Heat through and serve.
This recipe can be easily scaled up or down. The "proof of concept" version was 2 servings.