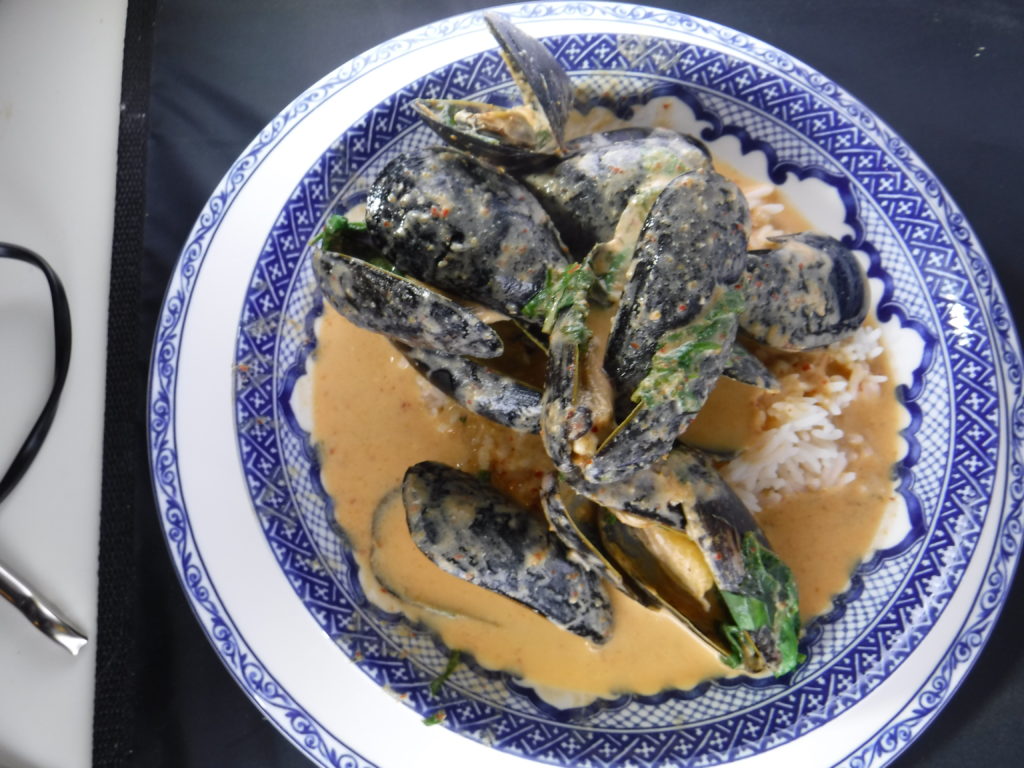 When we lived in Thailand, we very much liked the clam and mussel dishes.  Thus I was interested when I saw a recipe for Red Curry Mussels in a recent cookbook, Kerry Altiero's The Best Comfort Food on the Planet.  We were able to find very nice Prince Edward Island mussels at Wegmann's.  I made this a bit spicier than that original recipe, which was quite mild.  The key is to get a good balance between sweet (from the coconut milk), spicy, sour, and salty.
Here are the quantities for 2 persons.  We actually made a double recipe since the mussels available were pre-packed in 2 pound bags.
1 lb. mussels
12 oz. coconut milk
3 Tbs. red curry paste (Maesri brand)
10 Thai basil leaves (or mixture of Italian basil and mint)
5 sprigs cilantro
Juice of 1 lime
1 Tbs. fish sauce
Nam pla prik (chopped chilies in fish sauce) to taste at the table
Rinse the mussels in cold water.  Let them soak in cold water with some cornmeal to clean out their digestive systems for an hour or so.  Rinse again and scrub off any remaining beard.
In a large saucepan, heat 3 Tbs. of the coconut milk until is to bubbling but not burning.  Add the curry paste and fry for about a minute until fragrant.  Whisk in the remaining coconut milk.  Add in the mussels, and cook covered for 5-8 minutes until all the mussels have opened.  Add the basil, and cook for another minute.  Remove from the heat, and add the cilantro, lime juice, and fish sauce, and stir.  Serve with rice and adjust to taste with nam pla prik.  Have plenty of napkins available!