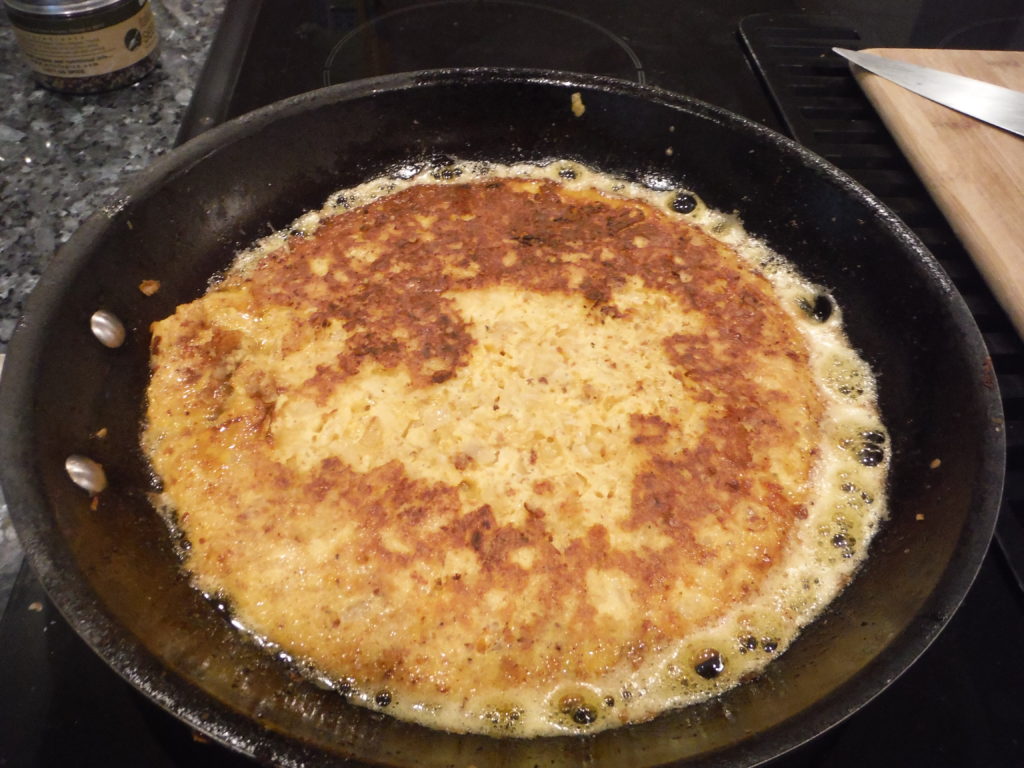 The Spanish classic egg and potato dish is great at home and when car camping, but can it also be good when ingredients cannot be refrigerated and weight is more of a consideration? This post records a successful experiment of making a tortilla at home more or less the way I would make it on a canoeing trip. I was dry running it for a dinner during our next canoe trip in the Boundary Waters with my Houston scouter buddies.
It may sound strange to try to make Tortilla Espanola with potato chips, but that is an idea raised by a famous Spanish chef, Ferran Adria, and it has also been endorsed by the Serious Eats website, which also has a recipe. Potato chips have a real weight advantage for backpacking/canoeing over raw potato, as well as allowing the entire dish to be cooked more quickly and with less fuel.
I experimented using Pringles since they are sold in a relatively small and packable container.  I thought the Pringles were OK, but that regular potato chips would taste better and have a better texture and would also be practical to use.  The potato chips just need to be put into a ziplock bag with the air pushed out as much as possible.  There is no problem if they get crushed during packing and transportation since they will need to ultimately be crushed before they are mixed with the egg.
The photos were all from my 3 serving experiment, but the quantities below are for the 6 servings I will need in the Boundary Waters.
1-1/4 cup powdered eggs (I used Hoosier Hill Farm Premium Whole Egg Crystals)
6 oz. salt and vinegar potato chips
6 cloves garlic, chopped
1 cup chopped onion
3 oz. salami, diced (can be eliminated for vegetarians)
4-6 Tbs. olive oil
1 cup (4 oz.) grated cheddar cheese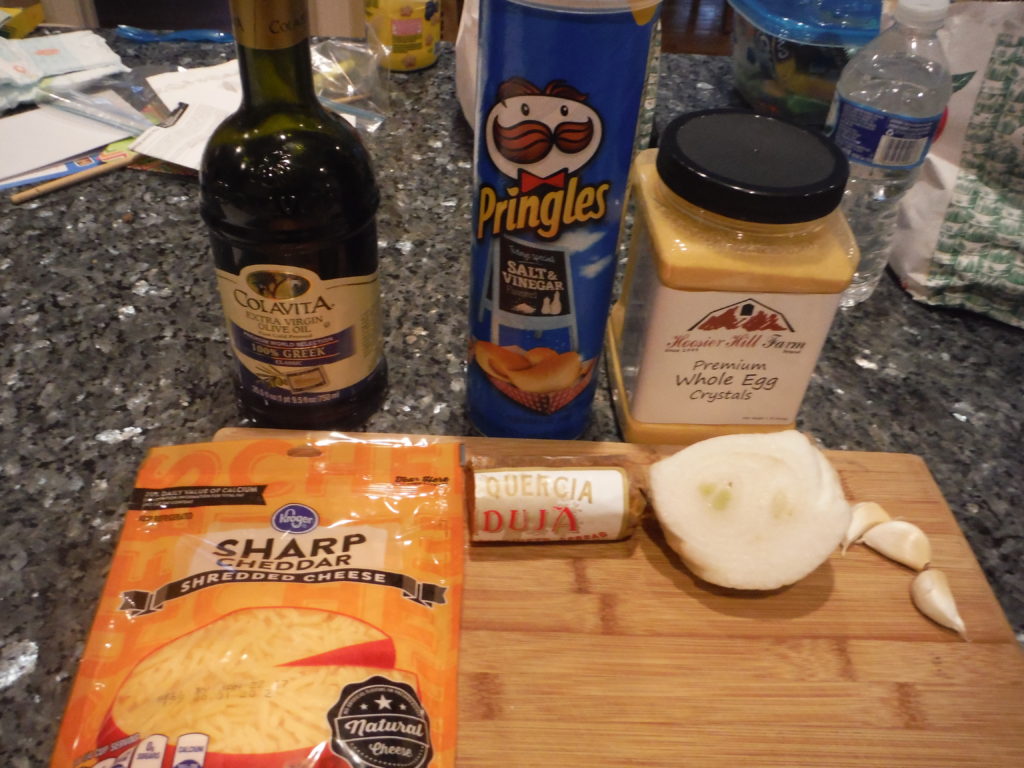 At home, saute the garlic and onion in 1-2 Tbs. of oil, until translucent, about 5 minutes.  Cool, dehydrate, and vacuum seal for camp.
At camp, mix the onion/garlic with a few Tbs. of hot water to rehydrate.
Rehydrate the powdered eggs in a bowl per the package instructions. (With the Hoosier Hill Farm egg crystals, 1-7/8 cup of water is needed.  The rehydration ratio is 3 Tbs. of water for 2 Tbs. of egg powder equals 1 egg.) Crumble the potato chips and add them to the egg. Mix in the cheese, the rehydrated onion/garlic, and the chopped salami (if using).  Make sure it is well mixed including coating all the potato pieces.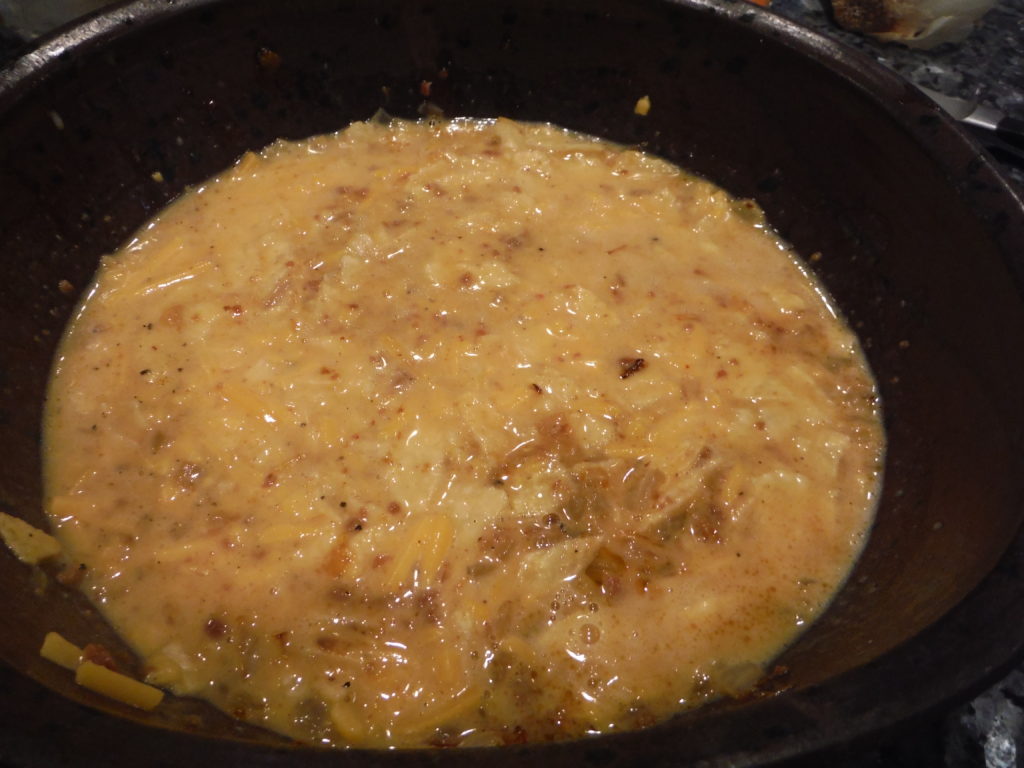 Add another 2 Tbs. of olive oil to the frying pan, heat over medium flame until hot, and then add the tortilla mixture. Cook until the bottom is set. If possible, cover the frying pan to help the top also cook. When the bottom is nicely browned, loosen the tortilla from the pan and slide it onto a plate. Put another plate on top and flip the tortilla so that the browned side is now up. Add another 1-2 Tbs. of oil to the pan if it looks dry, and slide the tortilla back in the pan to finish cooking. This is good hot or at room temperature.